Green Cleansing Elixir.









Green Cleansing Elixir.
All-natural 22 superfood green cleanse
New improved formula
All natural cleanse and detox
Improves digestive health
Boosts immunity and fights inflammation

Matcha Green Tea

Kale

Spirulina

Acai
All ingredients
Organic Apple Powder, Pineapple Powder, Matcha Leaf Tea, Wheat Grass Powder, Cranberry Extract, Spirulina Powder, Acai Berry Extract, Organic Barley Grass Powder, Organic Chlorella Powder, Organic Parsley Leaf Powder, Organic Broccoli Powder, Organic Beet Root Powder, Organic Spinach Powder, Organic Kale Powder, Organic Alfalfa Powder, Turmeric, Black Pepper, Green Tea Extract, Garcinia Cambogia Extract, Aloe Vera Leaf Extract, Grape Seed Extract, Dandelion Root, Lactobacillus acidophilus, L. casei, L. salivarius, L. plantarum, L. rhamnosus, L. brevis, Bifidobacterium bifidum, Streptococcus thermophilus, B. lactis/longum, Fructooligosaccharides, Guar Gum, Stevia.
Can I pair this with other products?
Double your detox with 28 Day Ultimate Teatox. It helps support your body's natural detox processes and reduce bloat.

Pair it with Detox Cherry Bomb for a super boost. A superfruit detox tea blend with antioxidants and added Vitamin C.
Does it contain caffeine?
It contains a very small trace amount of caffeine (which means almost no caffeine) from matcha powder and green tea extract.
How can I enhance the taste of it?
Coconut water, mangoes, pineapples are some customer favorites. Check out our blog for some tasty Elixir recipes!
More FAQ
Sign up to be the first to know when your favourite product is back in stock
Invalid Email Address
Benefits
Real Customers. Real Results.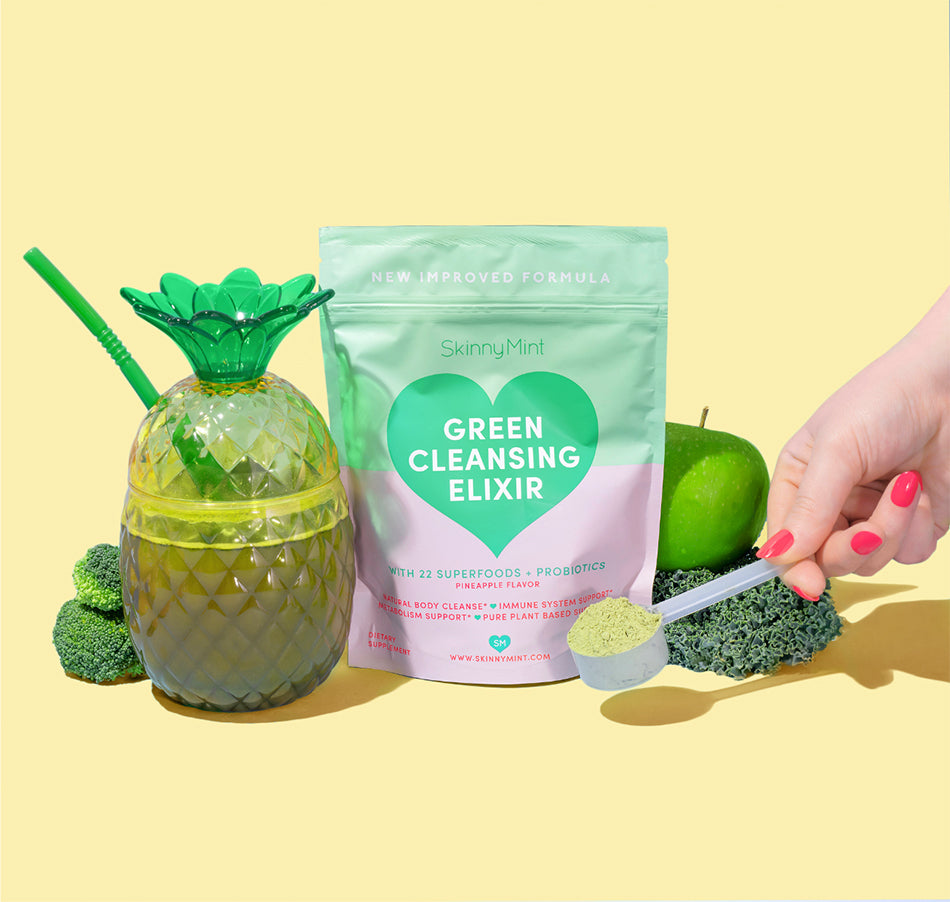 Do's & Don'ts
To maximise your results:
Do mix it with cold water
Don't use boiling water
Cold water or room temperature water is best to preserve the nutritional benefits of the superfoods.
Do eat your meals regularly
Don't skip your meals
Add it to your smoothies or drink it on its own as a supplement to your diet.
Do go easy on the alcohol
Don't be so hard on yourself
Alcohol has mild toxins and it's best to avoid it while you're doing a detox.
Customer Reviews
Ayisha B.
Verified Buyer
02/26/21
Pink clay mask
I love this mask. I usually have pretty clear skin but like many Victorians have been struggling with "mask-ne" over the past 5-6 months and this has really helped clear it when at its worst. The brush makes it easy to apply quickly and evenly and I also find it very satisfying to use because of the way the pink clay dries to semi-opaque (dependinRead more about I love this mask. I usually haveg on thickness) on my face so it looks and feels like it's working. I can get a little dry particularly either side of my nostrils and around my nose piercing, but haven't found this to be drying (when followed with a serum and moisturiser, at least).